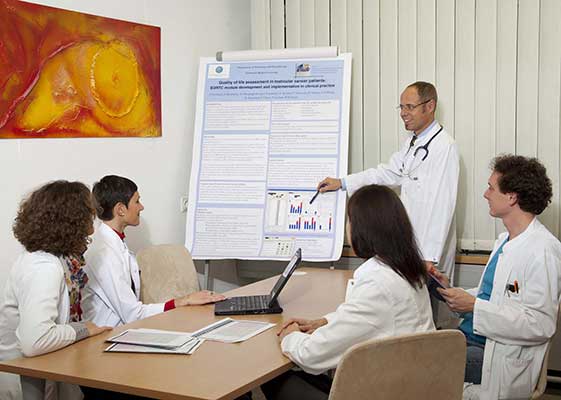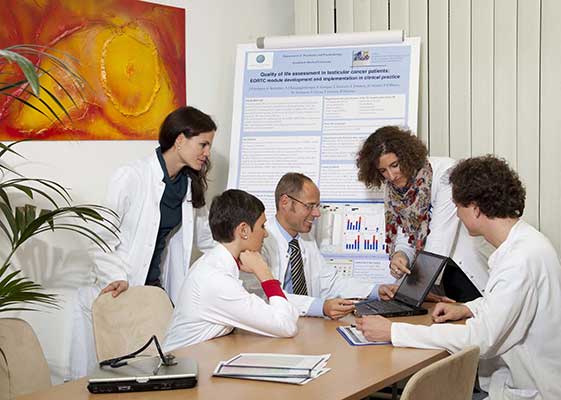 Research areas
Area 1 :

Patient reported outcomes (PROs)

Area 2 :

Questionnaire development

Area 3 :

Computer adaptive testing

Area 4 :

Machine learning
Research Activities
One of the major strengths of Evaluation Software Development (ESD) and the Computer-based Health Evaluation System (CHES) solutions are their tight connection to scientific research and users in daily clinical routine. From the very beginning, the mutual interdependence of software development and use in scientific projects promoted creating a reliable, powerful and flexible tool as well as establishing comprehensive and sound scientific knowledge.
This broad high quality scientific knowledge forms the basis for services like scientific consultation regarding e.g. study design, choice of patient-reported outcome measurements (questionnaires), timing and frequency of assessments, data analysis and interpretation, evaluation of concepts of medical treatment, etc.
The following list provides references to selected research articles by collaborators of Evaluation Software Development (ESD) containing information on the development process, the adaptation, improvements and the use of the Computer-based Health Evaluation System (CHES).
2023
2022
2021
Machine learning approaches to predict rehabilitation success based on clinical and patient-reported outcome measures. Tschuggnall M, Grote V, Pirchl M, Holzner B, Rumpold G, Fischer MJ. lnformatics in Medicine Unlocked 24 (2021) 100598
The 'Attitude towards Poly Pills Questionnaire' (APPQ): A phase I-III development and validation study in patients with cerebrovascular disease.

Eur J Neurol. 2021 Aug 30.

Implementation of daily patient-reported outcome measurements to support children with cancer.

Pediatr Blood Cancer. 2021 Aug 12:e29279.

Bridging the gap in outpatient care: Can a daily patient-reported outcome measure help?

Cancer Rep (Hoboken). 2021 Jul 10:e1421.

Using the Computer-based Health Evaluation System (CHES) to Support Self-management of Symptoms and Functional Health: Evaluation of Hematological Patient Use of a Web-Based Patient Portal.

J Med Internet Res. 2021 Jun 8;23(6):e26022

.
Machine learning in oncology—Perspectives in patient-reported outcome research.

Lehmann

·J, Cofala T,

· Tschuggnall M,

·Giesinger J,

Rumpold G,

Holzner B. Onkologe, March 2021, https://doi.org/10.1007/s00761-021-00917-8, G

erman version
Phenotyping of acute and persistent COVID-19 features in the outpatient setting: exploratory analysis of an international cross-sectional online survey.

Clin Infect Dis. 2021 Nov 26:ciab978. doi: 10.1093/cid/ciab978. Online ahead of print.

PMID:

34849652

Estimating seroprevalence of SARS-CoV-2 antibodies using three self-reported symptoms: Development of a prediction model based on data from Ischgl, Austria.

Epidemiol Infect. 2021 Feb 18:1-13. doi: 10.1017/S0950268821000418.

How to implement routine electronic patient-reported outcome monitoring in oncology rehabilitation.

Int J Clin Pract. 2021 Apr;75(4):e13694. doi: 10.1111/ijcp.13694. Epub 2020 Oct 2.

Evaluation by electronic patient-reported outcomes of cancer survivors' needs and the efficacy of inpatient cancer rehabilitation in different tumor entities.

Support Care Cancer. 2021 Mar 23. doi: 10.1007/s00520-021-06123-x

Assessment of health-related quality-of-life in patients with chronic Rhinosinusitis – Validation of the German Sino-Nasal Outcome Test-22 (German-SNOT-22).

J Psychosom Res. 2021 Jan;140:110316. doi: 10.1016/j.jpsychores.2020.110316. Epub 2020 Nov 24.

The GIMEMA-ALLIANCE Digital Health Platform for Patients With Hematologic Malignancies in the COVID-19 Pandemic and Postpandemic Era: Protocol for a Multicenter, Prospective, Observational Study.

JMIR Res Protoc. 2021 Jun 1;10(6):e25271.

Functional health and symptoms in Spain before and during the COVID-19 pandemic.

BMC Public Health. 2021 May 1;21(1):837.

Dutch utility weights for the EORTC cancer-specific utility instrument: the Dutch EORTC QLU-C10D.  

Qual Life Res. 2021 Jan 29. doi: 10.1007/s11136-021-02767-8.

Investigating the response scale of the EORTC QLQ-C30 in German cancer patients and a population survey.

Health Qual Life Outcomes. 2021 Oct 9;19(1):235. doi: 10.1186/s12955-021-01866-x.

Evaluating the Thresholds for Clinical Importance of the EORTC QLQ-C15-PAL in Patients Receiving Palliative Treatment.

J Palliat Med. 2021 Mar;24(3):397-404. doi: 10.1089/jpm.2020.0159. Epub 2020 Aug 24.

Estimation of an EORTC QLU-C10 Value Set for Spain Using a Discrete Choice Experiment.

Pharmacoeconomics. 2021 Sep;39(9):1085-1098. doi: 10.1007/s40273-021-01058-x. Epub 2021 Jul 3.

The cancer patient's perspective of COVID-19-induced distress-A cross-sectional study and a longitudinal comparison of HRQOL assessed before and during the pandemic.

Cancer Med. 2021 May 10. doi: 10.1002/cam4.3950.

Health-related quality of life issues, including symptoms, in patients with active COVID-19 or post COVID-19; a systematic literature review.

Qual Life Res. 2021 Dec;30(12):3367-3381. doi: 10.1007/s11136-021-02908-z. Epub 2021 Jun 19.

PMID:

34146226

Brazilian Validation of the European Organisation for Research and Treatment of Cancer (EORTC) Quality of Life Group (QLG) Computerised Adaptive Tests (CAT) Core.

Curr Oncol. 2021 Aug 31;28(5):3373-3383. doi: 10.3390/curroncol28050291.

A Tool for Rapid Assessment of Functional Outcomes in Patients with Head and Neck Cancer.

Cancers (Basel). 2021 Nov 3;13(21):5529. doi: 10.3390/cancers13215529.

The Mediating Role of Resilience and Extraversion on Psychological Distress and Loneliness Among the General Population of Tyrol, Austria Between the First and the Second Wave of the COVID-19 Pandemic.

Front Psychiatry. 2021 Oct 27;12:766261. doi: 10.3389/fpsyt.2021.766261. eCollection 2021.

Psychological Distress, Loneliness, and Boredom Among the General Population of Tyrol, Austria During the COVID-19 Pandemic.

Front Psychiatry. 2021 Jun 10;12:691896. doi: 10.3389/fpsyt.2021.691896. eCollection 2021.

The Impact of Resilience and Extraversion on Psychological Distress, Loneliness, and Boredom During the COVID-19 Pandemic: A Follow-Up Study Among the General Population of Tyrol, Austria.

Front Psychiatry. 2021 Nov 12;12:777527. doi: 10.3389/fpsyt.2021.777527. eCollection 2021.

French Value-Set of the QLU-C10D, a Cancer-Specific Utility Measure Derived from the QLQ-C30.

Appl Health Econ Health Policy. 2021 Mar;19(2):191-202. doi: 10.1007/s40258-020-00598-1.
2020
2019
2018
2017
International validation of the European Organisation for Research and Treatment of Cancer QLQ-BRECON23 quality-of-life questionnaire for women undergoing breast reconstruction. Winters Z, Afzal M, Rutherford C, Holzner B, Rumpold G, Costa Vieira R, Hartup S, Flitcroft K, Bjelic-Radisic V, Oberguggenburger A, Panouilleres M, Mani M, Catanuto G, Douek M, Kokan J, Sinai P, King M. BJS. 2017
Improvement of quality of life and psychological distress after inpatient cancer rehabilitation- results of a longitudinal observational study. Riedl D, Rumpold G., Giesinger J., Wintner L, Loth F, Nickels A, Licht T, Greil R, Holzner B. Wiener klinische Wochenschrift. 2017
Zukunft jetzt – Implementierung eines IT-gestützten Distress-Screenings: Expertenbasierte Konsensempfehlungen zum Einsatz in der onkologischen Routineversorgung. Koehler M, Hornemann B, Holzner B., Schäffeler N., Zimmermann T, Nest A., Wifling K, Herschbach P. Onkologe. 2017. April
Evaluation of Noncompletion Bias and Long-Term Adherence in a 10-Year Patient-Reported Outcome Monitoring Program in Clinical Routine. Gamper EM, Nerich V, Sztankay M, Martini C, Giesinger JM, Scarpa L, Buxbaum S, Jeller M, Holzner B, Virgolini I.

Value Health

. 2017 Apr;20(4):610-617
International Psychometric Validation of an EORTC Quality of Life Module Measuring Cancer Related Fatigue (EORTC QLQ-FA12). Weis J, Tomaszewski KA, Hammerlid E, Ignacio Arraras J, Conroy T, Lanceley A, Schmidt H, Wirtz M, Singer S, Pinto M, Alm El-Din M, Compter I, Holzner B, Hofmeister D, Chie WC, Czeladzki M, Harle A, Jones L, Ritter S, Flechtner HH, Bottomley A; EORTC Quality of Life Group.

J Natl Cancer Inst

. 2017 May 1;109(5).
Can we use gonadotropin plasma concentration as surrogate marker for BMI-related incomplete estrogen suppression in breast cancer patients receiving anastrozole? Oberguggenberger A, Meraner V, Sztankay M, Beer B, Weigel G, Oberacher H, Kemmler G, Czech T, Holzner B, Wildt L, Sperner-Unterweger B, Daniaux M, Hubalek M.

BMC Cancer

. 2017 Mar 28;17(1):226
Electronic patient self-Reporting of Adverse-events: Patient Information and aDvice (eRAPID): a randomised controlled trial in systemic cancer treatment. Absolom K; Holch P; Warrington L; Samy F; Hulme C; Hewison J; Morris C; Bamforth L; Conner M; Brown J; Velikova G. BMC cancer. 2017; 17(1):318; doi: 10.1186/s12885-017-3303-8.
Lebensqualität und psychische Belastung bei Hodentumorpatienten. Sztankay M; Giesinger JM; Holzner B. Der Onkologe. 2017; 23(2):136–145; doi: 10.1007/s00761-016-0158-6.
2016
2015
2014
2013 – 2009
Cardiology
Life vest and quality of life
Occupational stress and life style modification in cardiac patient
CHES.Cardio – computerized psychological interventions for coronary heart disease
Mental health interventions in cardiac patients
Community
CHES.Commnity – eHealth tool for community members within the project healthy community
 Neurology
Standardized collection of disease-specific quality of life and psychosocial stress in patients with epilepsy
Strokecard – eHealth tool for stroke patients to manage their health data.
Orthopaedics
Electronic assessment of patient-reported outcomes in patients after total hip and knee arthroplasty
Computer-adaptive assessment of patients' joint awareness after surgery of the hip, knee or shoulder
Oncology
GIMEMA multicentre study – Italien Group for Adult Hematologic Diseases – An international research study.
EORTC BRR16/24 field study – An international research study.
Development of an interactive questionnaire for measuring health related quality of life – An international phase IV research study.
Development of an EORTC module specific for testicular cancer (EORTC QLQ-TC26): Phase IV field study including evaluation of multi-centre electronic PRO data collection with CHES
Making the EORTC QLQ-C30 interactive: Development of computerized adaptive testing (CAT) for EORTC QLQ-C30 dimensions
Development of a reference data base for self-reported physical and psychosocial symptom burden in cancer patients
Development of a tool for the computer-adaptive assessment of patient-reported outcomes (PRO) and its implementation in oncological care and research
Brief psychooncological intervention for parents of adolescents and young adults with hematologic malignancies
Computerized monitoring of patient-reported adverse events and health status (CoMPAHS)
Development of Health Policy Recommendations for a Personalized Cervical Cancer Screening Program
CML Registry and CML Outcome & Policy Model -Extension, further Development and Application
Development of a Personalized Decision Tool for Potential Prostate Cancer Screening Candidates and their Physicians
AMR 2.0 (Austrian Myeloma Registry)
Telemonitoring of somatic and psychosocial symptoms and side effects in oncological patients (ONCO-TEL)
Comprehensive evaluation study of chemotherapy effectiveness with focus quality of life in patients with metastatic colorectal cancer
Optimization of psychooncological support in medical care/ Stepped Care
Evaluation of health related quality of life during pemetrexed (Alimta®) consolidation therapy in patients with advanced non-small cell lung cancer (NSCLC)
Phase III and Phase IV module development studies
Platform for self-help strategies
Patient information portals